Welcome to Crawford and Company Interiors!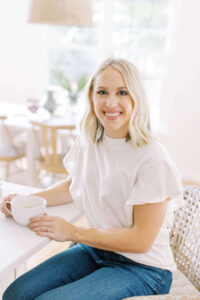 Welcome! My name is Haley Crawford and I am the creator of Crawford & Company Interiors. 
I have always had a passion for making things "pretty." Whether that be with makeup, clothing, or interior design. When I was in college, I was an elementary education major, but never felt like it was the right fit for me. Unfortunately, I so badly wanted to finish college with a degree in 4 years, and by the time I really realized that teaching wasn't my passion, but interior design was, I felt like it was too late (how I wish I could go back in time). There was no program at my college for interior design, so I finished my elementary education degree. Shortly after college, I married my college sweetheart and we moved a lot in our first years of marriage. During those years, we had many apartments and homes and I was always passionate about transforming our spaces. My style and knowledge evolved, and shortly after becoming a stay at home mom, I started an Instagram page to share my love for interior design. I received great feedback, continued to learn, and turned my Instagram page into a "real life" design business. I have three young children, so I know what it's like to want a beautiful space that still functions well for a family. I love light and bright spaces, but still love a moody moment. I am passionate about pulling in different textures and patterns to help a space come to life. I believe in making your home a sanctuary for you and your family, that is equal parts casual and sophisticated. I would love the opportunity to work with you and help you create your own sanctuary!